I took my first dip into the Origins pool at Christmas. As a student, I never spent a large amount of money on skin care but since graduating, it's been a new focus. I am taking on board the thought process of the French: invest in products that will help your skin; not just cover up the problems.
With that in mind, I believe a good eye cream is an essential product. They say your eyes are the window to the soul and with none of us getting any younger, a product to help delay those tell tale lines is truly a girl's best friend!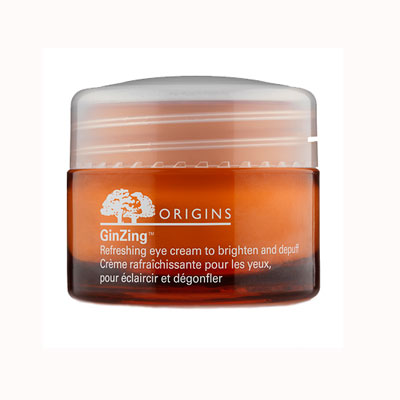 I decided on Origins' GinZing offering I will admit, mainly due to 'blogger enabling'. I had read and listened to numerous reviews that sung this product's praises. I was entranced by its promise to de-puff via its caffeine-loaded formula and instantly brighten dark circles. As a sufferer of the dreaded shadows, it seemed like a potential HG product. 5 months down the line and unfortunately I'm not so sure....
I have to give GinZing its due - it does what it says on the tin. It's brightening and refreshing; it makes your eyes feel soothed and drastically more awake looking than when you first rolled out of bed. However, I feel it does this in more of a cosmetic way than an actual skin care way. The reasoning for this is that it is packed full of light reflecting particles which results in it being basically a creamy highlighter. Used sparingly it has the effect of brightening the eyes but if you apply too much, you look like you've smeared a cheap shimmery product all over your eyes in an attempt to cover your dark circles. Not ideal!
I find it also has limited moisturing power and by the middle of the day, my eyes look very dry - making those little lines a tad too pronounced for my liking! This is however, not really Origins fault as it never promises GinZing to be anything more than an instant fix.
Overall, this product is not for me. It doesn't live up to my new French ideals as it is purely a top layer product that will have no lasting results. I do like it, and with a four star rating, it's safe to say many others do too but at £21.00, it is nowhere near as heavy duty as I would like.
And so, the eye cream search goes on. I have been trialling a few different lotions and potions but that's for another day...!
NB Apolgoies for the stock photo; technology is proving to be a bit of an issue at the moment. Normal business will resume shortly!