This post started life as the 2nd of my '5 Favourites' series... However, I soon realised that I actually don't LOVE any of the foundations I own or have tried. I am still very much on the quest to find that one foundation that does everything I want it to....
Even out my skin tone
Help to conceal redness around my nose and on my cheeks (to be then topped up with concealer if needed)
Leave me with dewy, healthy, fresh looking skin (My skin is pretty much 'normal' but slightly on the dry side)
Look fresh all day - with only the occasional sweep of powder needed
Not too much to ask for is it?!
The reality is that my skin is OK and in the last few months I have wanted to use this to my advantage. I therefore now look for a more natural, dewy looking foundation whereas before I aspired to a matte look. It is this change of heart which means I am now lemming Bobbi Brown Skin, NARS Sheer Glow and Chanel Pro or Vital Lumiere. I have always been a bit wary of buying high end foundations as the few times I have, I have always been colour matched wrongly or hated the product after a day. However now I feel more comfortable in my product knowledge and colouring I think I need to take the plunge. I am hoping to get a few samples next time I am in Selfridges to see how they wear on my skin - I really do not want to throw £30 down the drain!
So for the moment, I can't really say I have five foundations that I really love or would highly recommend. I have however used a few in the past that if push came to shove, I would happily use...
In no particular order:
MaxFactor Miracle Touch Liquid Illusion Foundation
This is the foundation that I am currently using and it has featured in my FOTD posts. I did really like and I have purchased it a few times but I have recently changed my mind and I'm not so crazy about it anymore.
It is a solid foundation which turns to a liquid on contact with your skin and dries matte. I apply this with a sponge and I would say it gives a light to medium buildable coverage which is what I like.
I am however finding it now slightly too matte for me and it also works out very expensive at £11.99 for only 11.5g which with every day use, only lasts a month or so..
Clinique Superbalanced Makeup
This was the first high end foundation I purchased and I still remember the thrill of sitting on the stool getting myself colour matched! However, back then I didn't know to check in natural light first and was pretty upset when I got home, tried it out and realised how orange I looked. I should, with hindsight, have taken it back but I decided to stick with it. After a little fake tannage it looked OK and I actually really liked the finish. It keeps you matte in your t-zone and hydrated in any dry areas. I would repurchase this I think but get in the right colour..!
Ruby & Millie Sheer Base
I first really started experimenting with make up when I had about 20 of the Boots £5 No 7 and Ruby & Millie vouchers a few years ago. I picked this up one day and used it for months. It is a pump action brush-on foundation and gives a very light coverage, perfect for day time. It does need a slight setting with powder on the t-zone but gives the cheeks a lovely glow.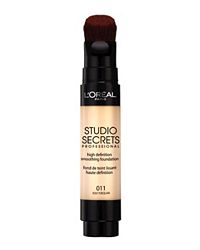 L'oreal Studio Secrets HD Smoothing Foundation
Perhaps my favourite of this selection. Another brush on foundation which provides a medium coverage. It does leave me looking dewy but perhaps TOO dewy? If my skin was slightly drier this would be HG material. However, as it is, I still need to powder over the top.
Honourable Mentions
Revlon Colorstay - Of course, a somewhat cult product. I don't mind this for evenings when I want a serious heavy duty foundation but for the most part I have to mix this with tinted moisturiser as I really am not a fan of the heavy matte look it provides. It is OK, but I don't love it.
ELF Mineral Powder Foundation - I like this to set my foundation on nights out or over tinted moisturiser in the day for no-make-up-make-up-days. I'm not sure it really gives any coverage though and the lightest colour only looks right on me when I have serious fake tan on. I like it though for my first try of mineral make up.
I really feel like no matter how great your eye make up is or how pretty your lipstick is, your base needs to be as flawless as possible. Foundation is therefore the one product I would spend the most on and invest the most time researching. I am very fickle though and get bored and like choice. Even if I found a HG product, I'd still probably search for a better one...! I also hate shopping for it - the potential of getting the wrong colour and also needing one for when tanned; pale; in between - arrrggghh the drama ..!
What are your HG foundations and have you tried the NARS, Chanel or BB?
xxx